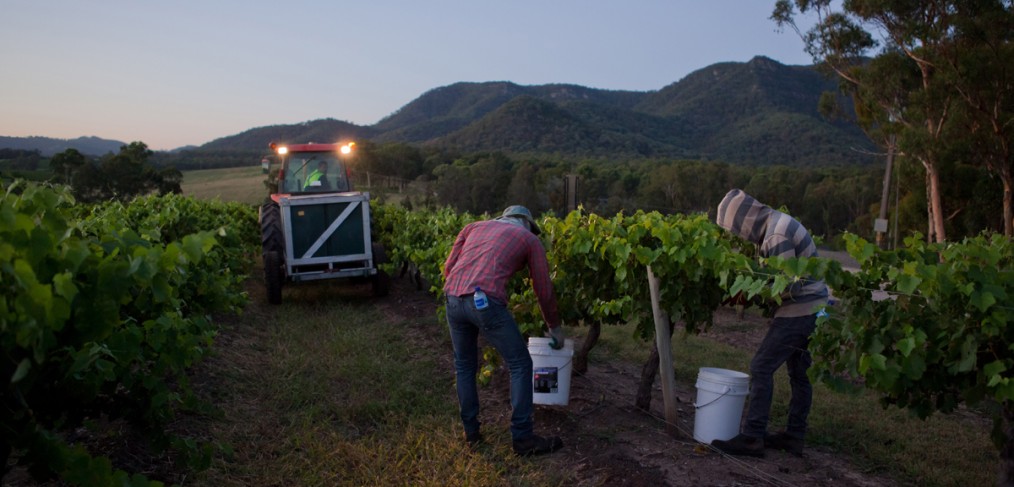 Vintage 2015 Report
2015 wasn't the easiest of vintages, but we are very happy with the end result now that it is safely working its magic in the winery.
There was very little rain up to the end of November 2014, which affected fruit set to a degree and hence the number of bunches and volume of fruit was down slightly on previous years. We received much needed rainfall in December, which was a welcome relief.  The vineyard has good airflow and with some breeze about the vineyard dried up nicely.
The rain came again in January, which made it difficult to get onto the vineyard. This was followed with some drier weather, and as the Chardonnay was nice and clean and the sugar and acid numbers were good (be: 12.4, pH 3.45, TA: 6.1), we picked it on the 27th January.
The Shiraz was looking very nice as well and it was picked on the 11th February at 14.0Be. With the Cabernet picked a week later on the 19th February at 12.1 Be.
All the fruit was picked clean and well formed, testament to the vineyard practices we employ to ensure the vines do not produce excess foliage. This ensures the bunches are exposed to the wind and sunlight which keeps them dry and less susceptible to disease. We also carried out some 'bunch thinning' (removing excess bunches) which leads to riper and better quality fruit.
We are happy with the fruit that came in which is now sitting happily in tank or barrel, and look forward to showing you these wines in the near future.
Craig Brown-Thomas and Steve Allen